Window Fly Screen
The Corner Star Fly screen is the product of three years of development. It has fast become a favourite in homes and industry due to its unique design. We believe the design makes it superior to other brands. The range and versatility of this product is limited only by your imagination.
Standard and custom sizes are available.
Available in the full range of powder coated colours as well as natural anodised aluminium.
The unique cornering system & superior material makes it the most versatile and durable fly screen available.
Manufactured to precise measurements, ensuring a exact window fit.
The mesh is made from interwoven fibre glass and coated with PVC.
Mesh is specifically designed to withstand high temperatures and is rust and corrosion resistant.
The mesh of the fly screen can be replaced without compromising the product.
Installation is quick and easy and can be done by anyone.
Can be installed on steel, wood or aluminium windows.
It is the only system of its kind and has set itself apart from the competition.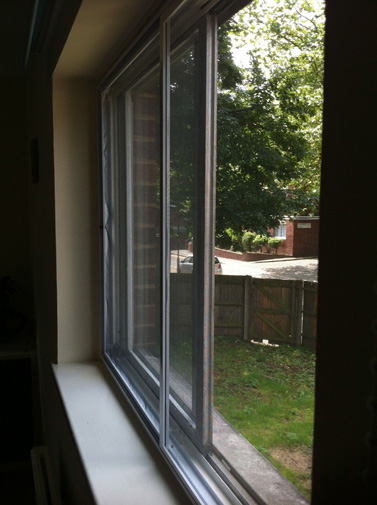 Patio Door Fly Screen
The patio door fly screen is sure to keep all unwanted guests on the outside looking in. The unique design of the screen ensures that no insects can enter through gaps between the frame and the door and the extra tough mesh is designed to withstand scratching by dogs/cats.
Fits on all standard aluminum patio doors and wood sliding doors.
Easy to install.
Can be fitted to single and double sliding doors.
Custom sizes and designs can be made to specifications.
Available in natural, white, bronze or any custom colour on request.
Mesh is designed to specifically withstand dogs scratching against it.
Patio door screen comes complete with mid rail which makes it extremely rigid.
A fantastic, versatile screen for home and business use.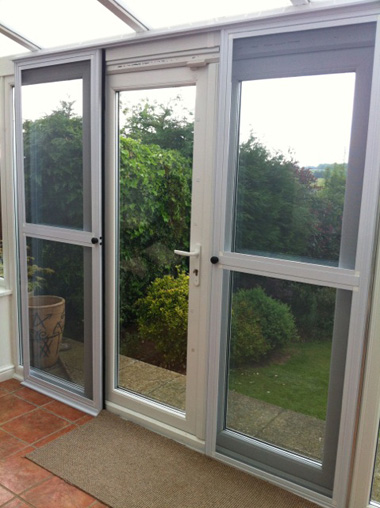 Door Fly Screen
The side hung door screen was recently launched with great success due to its ease of installation and effectiveness against pests.
The door can be manufactured to any size.
The fly screen door can be fitted to any single side hung door whether steel, wood or aluminium.
The door is fitted with three self-closing door hinges.
Installation of the door is achieved by screwing in six screws and one screw for the magnetic clip.
The structural strength and rigidity of the door is achieved by the patented corner cleats of the outer frame. These cleats assure that the door does not sag and stays square.
Heavy duty black mesh, imported from the USA, is used on the doors to withstand scratching by dogs/cats.
The door is fitted with handles, magnetic locks and self-closing hinges.
The door screen is robust, customisable and effective; perfect for home and business use.

Please note, all aluminium extrusions and plastic components are exclusive to Corner Star and are only available through Corner Star (South Africa) or AFS (UK, Europe, Middle East and Asia).